In their second match of the BSWW Mundialito Gran Canaria 2022 held in Gran Canaria, Spain, the Japan Beach Soccer National Team got off to a strong start with AKAGUMA Takuya (Lazo Apego Kitakyusyu) scoring the opening goal in the first minute, with the assist coming from KIBUNE Yuki (Averdade Kumamoto BS).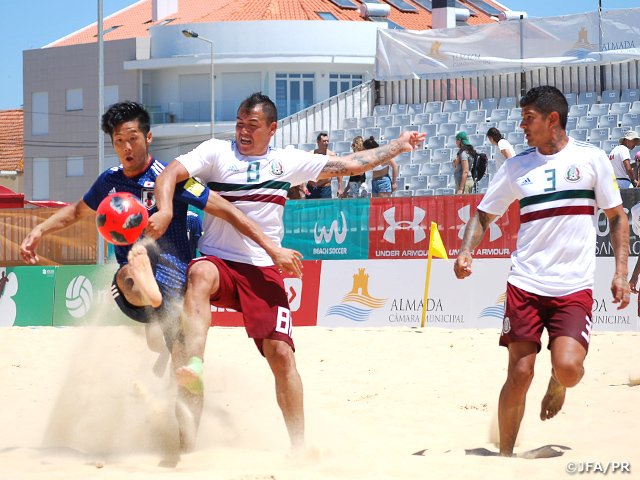 TANAKA Hayate (Tokyo Verdy BS) scored the second goal in the eighth minute, when he redirected the clearance of the opposing goalkeeper to extend the Japanese lead, but Spain responded right back, scoring a goal in the very next play, as Japan finished the first period with a 2-1 lead.
Repeating the plays he had shown multiple times in last year's FIFA Beach Soccer World Cup™, Akaguma once again scored a goal in the first minute of the period, as he converted the long feed from the goalkeeper with a bicycle kick.
Japan also shifted their defensive style in the second half, effectively working in tandem to keep the Spanish offence at bay, while also anticipating to intercept the feeds from the opposing goalkeeper to create more opportunities. In the 11th minute, OBA Takaaki (Loewe Yokohama) forced a turnover to initiate a counterattack, setting up a one-on-one situation against the goalkeeper, where the veteran calmly delivered a pass to allow Kibune to slot the ball into the open net.
With momentum on their side, Japan continued to show their effectiveness in defence, which led to more offensive opportunities, as seen in the second minute, when MOREIRA Ozu (Tokyo Verdy BS) capitalsied on the opponent's misdirected pass to score the fifth goal. Leading by four goals, Akaguma went onto a goal spree, scoring three consecutive goals in the 29th, 33rd, and 35th minutes to extend his tally to five goals for the match. Despite conceding a late goal to Spain, Japan finished the match with a final score of 8-2.