Japan National U-16 Team, so-called "00 Japan", started their COPA UC 2016 campaign on Wednesday 14 by drawing to U-17 UNIVERSIDAD CATOLICA.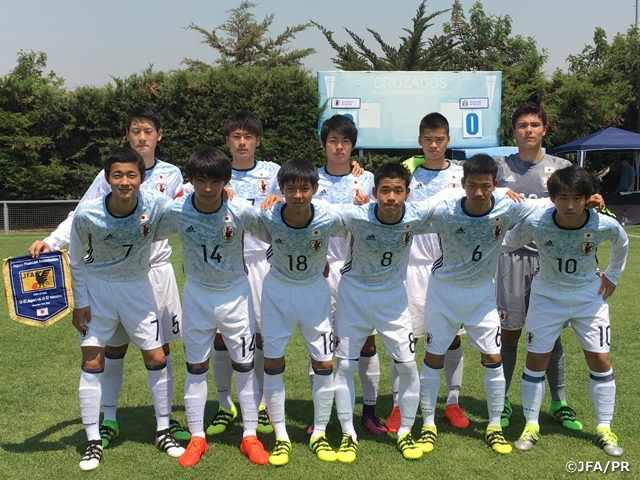 The opponents are one of the best clubs in Chile, winning countless domestic youth championships. According to the tournament regulations, the U-17 players of the club are participating this time.
The match was held right after the tournament's opening ceremony. In the great environment with almost 800 fans in attendance including a large group of Japanese supporters, the U-16 Japan squad kicked off their first match.
For '00 Japan', it was the first official international match since they lost to Iraq in the semi-final of the AFC U-16 Championship India 2016. Despite the fatigue from a long trip from home, the squad, especially their frontline, displayed some impressive football.
The opponents composedly moved the ball around and showed their toughness and physicality time to time to dodge Japan's pressure and prevented the Japanese side from creating chances. As they gradually started to control the match, a passing mistake by Japan in the 13th minute led to a threatening pass into the space behind their defenders.
Early in the second half, Japan were showing decent effort, but a long feed by the opponents surprised Japan and a very strong shot from the left side of Japan's goal found the upper right corner of the net for the match opener. Partly due to the fatigue they had to endure due to the long travel and time difference, the Japanese side kept failing to take advantage of the chances they created.
Then in the 55th minute, forward NAKAMURA Keito, after taking the ball in the middle, sent an impressive feed to YAMADA Hiroto, who passed by a defender with outstanding technique and equalized the match with his goal. However, the match ended with a 1-1 draw
The next match for Japan is against U-16 Mexico who defeated U-16 Peru 1-0 in their first match.